Moral Education of Future Lawyers while Studying German Language
Tetiana Arterchuk

Rivne Institute of Kyiv University of Law, NAS of Ukraine
Keywords:
moral education, foreign language, law students
Abstract
The article deals with the possibilities of educational influence on future legal professionals by means of German languauge. The author emphasizes the moral potential which includes the content of foreign language training (literary extracts, proverbs, phrases) as well as the form of the lesson (communicative exercises, pair and group work, role-playing games)
Downloads
Download data is not yet available.
References
Збірник наукових праць Бердянського державного педагогічного університету (Педагогічні науки) / [електронний ресурс]. – Бердянськ : БДПУ, 2010. – № 4. – 336 с. – Режим доступу : http://www.nbuv.gov.ua/portal/soc_gum/znpbdpu/Ped/2010_4/Hor.pdf.
Арапова Е. М. Нравственное воспитание на уроках иностранного языка / Е. М. Арапова // Фестиваль педагогических идей "Открытый урок". – М., 2009 / [Электронный ресурс]. – Режим доступа : http://festival.1september.ru/articles/415447/.
Озерова Л. А. Духовно-нравственное воспитание на уроках английского языка / Л. А. Озерова // Учеб.-метод. портал. – 2012 / [Электронный ресурс]. – Режим доступа : http://www.uchmet.ru/articles/141863/.
Юзликаева A. M. Нравственное воспитание студенческой молодежи средствами иностранного языка : автореф. дис. на соискание учен. степени канд. пед. наук / А. М. Юзликаева. Ташкент, 1991. – 21 с.
Bovermann M. Schritte 2 Deutsch als Fremdsprache / Bovermann M., Penning-Hiemstra S. – Würzburg Huber Verlag, 2003. – 148 s.
Niebisch Daniela BRIEFE SCHREIBEN IM BERUF Beispiele, Regeln, Tipps. – Planegg : Spotlight Verlag GmbH. – 2007. – 24 S.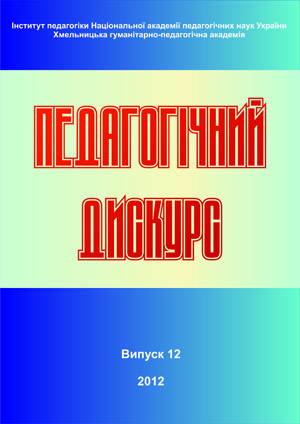 How to Cite
Arterchuk, T. (2012). Moral Education of Future Lawyers while Studying German Language. Pedagogical Discourse, (12), 10-13. Retrieved from https://ojs.kgpa.km.ua/index.php/peddiscourse/article/view/825
Copyright (c) 2012 Pedagogical Discourse
This work is licensed under a Creative Commons Attribution-NonCommercial-ShareAlike 4.0 International License.