Life of a Personality in the Space of Spirituality
Ivan Beh

Institute of Problems of Education of National Academy of Pedagogical Sciences of Ukraine
Keywords:
Personality, spirituality, way of life, charity, life of the individual
Abstract
The article reveals the interpersonal interactions that occur in a particular social group that directly affect the life of each member. This dependence is peculiar to both small spontaneous and non-contact formal associations that reflect the general structure of society. A small informal group will be more effective in this regard. Until now, group processes of value-meaning harmonization or confrontation have been traced at both theoretical and applied levels only in the context of forming a single socially important motivational basis for the functioning of a group and its progressive development. Here, preference was given to the category of value cohesion and the content of interpersonal contacts that arose under its influence.
Downloads
Download data is not yet available.
References
Балл А. Г. Психология в рациогуманистической перспективе : избр. работы / Г. А. Балл. – К. : Основа, 2006. – 408.
Бернс Р. Развитие Я-концепции и воспитание / Р. Бернс. – М. : Прогресс, 1986.
Выготский Л. С. Развитие личности и мировоззрения ребенка / Л. С. Выготский // Психология личности (тексты). – М., 1982. – С. 161.
Зязюн І. А. Педагогіка добра : ідеали і реалії / І. А. Зязюн. – К. : МАУП, 2000. – 312 с.
Кремень В. Г. Філософія людино центризму в освітньому просторі / В. Г. Кремень. – К. : Т-во "Знання" України, 2011. – 520 с.
Леонтьев А. Н. Деятельность. Сознание. Личность / А. Н. Леонтьев. – М., 1975.
Рубинштейн С. Л. Проблемы общей психологии / С. Л. Рубинштейн. – М., 1976. – 416 с.
Рувинский Л. И. нравственное воспитание личности / Л. И. Рувинский. – М. : Изд-во Моск. Ун-та, 1981. – 184 с.
Сухомлинський В. О. Вибрані твори : у 5-ти т. / В. О. Сухомлинський. – Т. 1. – К. : Рад. шк., 1976. – 654 с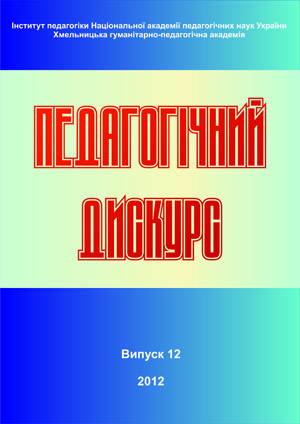 How to Cite
Beh, I. (2012). Life of a Personality in the Space of Spirituality. Pedagogical Discourse, (12), 29-38. Retrieved from https://ojs.kgpa.km.ua/index.php/peddiscourse/article/view/832
Copyright (c) 2012 Pedagogical discourse
This work is licensed under a Creative Commons Attribution-NonCommercial-ShareAlike 4.0 International License.