Specificity and Components of Successful Educational Work of a Curator with First-Year Students
Ludmila Bilousova

G.S. Skovoroda's Kharkiv National Pedagogical University

Eugene Olkhovsky

G.S. Skovoroda's Kharkiv National Pedagogical University
Keywords:
educational work, curator, first-year students, specificity of curator's work, success of curator's work
Abstract
The article is devoted to coverage of the factors that cause the specificity of curator's work with first-year students and it determines tasks of such work. The practice-oriented ways of success achievement in this work are outlined
Downloads
Download data is not yet available.
References
Буяльська Т. Б. Теоретичні та практичні аспекти роботи кураторів з адаптації студентів першого курсу в умовах вищого навчального закладу / Т. Б. Буяльська, М. Д. Прищак // Вісник Вінницького політехнічного інституту. – 2008. – № 5. – С. 105–112.
Галіцан О. А. Сутність і структура педагогічної фасилітації вчителя [Електронний ресурс] / О. А. Галіцан // Народна освіта. – 2010. – Вип. 3(9). – Режим доступу : http:www.narodna_osvita.kiev.ua/vupusku/9/statti/galican.htm.
Коваль М. Ю. Анализ роли куратора в адаптации студентов к жизни и учебе в вузе (из опыта работы на автотранспортном факультете АлтГТУ) / Коваль М. Ю., Кузьмин А. Г. // Основные проблемы и направления воспитательной работы в современном вузе : тез. докл. Всерос. науч.-практ. конф. – Барнаул : АлтГТУ, 2010. – С. 161–164.
Коломійченко С. Ю. Сутність фасилітуючої педагогічної взаємодії / С. Ю. Коломійченко // Педагогіка та психологія : зб. наук. праць. – Харків : ХНПУ імені Г. С. Сковороди, 2007. – Вип. 32. – С. 26–31.
Короткевич О. А. Роль куратора учебной группы в повышении эффективности адаптации студентов-первокурсников [Електронний ресурс] / О. А. Короткевич. – Режим доступу : http://www.rusnauka.com/3._KAND_2007/Pedagogica/ 18630.djc.htm.
Лисенко С. А. Особливості формування комунікативної компетентності куратора студентської групи в умовах інформаційного суспільства / Лисенко С. А., Мефанік М. С. // Збірник наукових праць Бердянського державного педагогічного університету (Педагогічні науки). – Бердянськ : БДПУ, 2012. – № 2. – С. 196–203.
Мороз Л. В. Умови адаптації студентів першого курсу до кредитно-модульної системи організації навчального процесу. Нові технології навчання : наук.-метод. зб. / Л. В. Мороз ; Інститут інноваційних технологій і змісту освіти МОНмолодьспорт України. – К., 2011. – Вип. 68. – С. 169–178.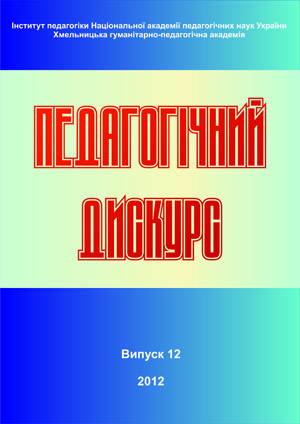 How to Cite
Bilousova, L., & Olkhovsky, E. (2012). Specificity and Components of Successful Educational Work of a Curator with First-Year Students. Pedagogical Discourse, (12), 38-42. Retrieved from https://ojs.kgpa.km.ua/index.php/peddiscourse/article/view/834
Copyright (c) 2012 Pedagogical discourse
This work is licensed under a Creative Commons Attribution-NonCommercial-ShareAlike 4.0 International License.