An Experiment in the History of Domestic Pedagogical Science and Practice of the Soviet Period: to the Question of Systematization of the Sources of the Research
Ellina Panasenko

SE «Lugansk National Taras Shevchenko University»
Keywords:
experiment, source study, source base of historical and pedagogical research, historical and pedagogical source, systematization
Abstract
The article states that the problem of an experiment as a research method in the history of domestic pedagogical science and practice of the Soviet period (1943–1991) has a broad base of sources. Its analysis is carried out in the following main groups of historical and pedagogical sources: 1) the works of the foreign scientists devoted to the various aspects of an experiment as a scientific method of research; 2) the items of scientific knowledge, its methodology in the general-theoretical plan, developed in the works of philosophers and logicians of the Soviet era; 3) the scientific works of domestic scientists devoted to the specifics of a social experiment; 4) a layer of the fundamental psychological works in which the basic possibilities of the use of a method of experiment in psychology are enlighted; 5) the initial works devoted to the development of the theory and practice of pedagogical experiment during the studied period (the published standard and legal materials; works in the general methodology of pedagogics, methodology and technique of pedagogical researches; textbooks, educational and methodical books in pedagogics; materials of the pedagogical press; the dissertations of domestic authors defended in Ukraine during 1943–1991).
Downloads
Download data is not yet available.
References
Равкин З.И. Логическое и историческое в проблемных исследованиях по истории советской школы и педагогики / З.И. Равкин // Советская педагогика. – 1970. – № 9. – С. 94–102.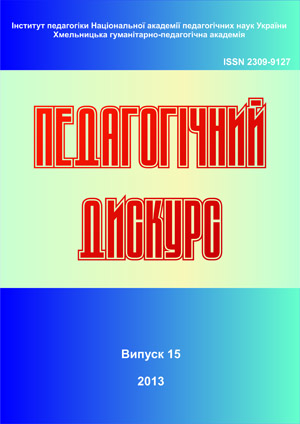 How to Cite
Panasenko, E. (2013). An Experiment in the History of Domestic Pedagogical Science and Practice of the Soviet Period: to the Question of Systematization of the Sources of the Research. Pedagogical Discourse, (15), 525-531. Retrieved from https://ojs.kgpa.km.ua/index.php/peddiscourse/article/view/848
Copyright (c) 2013 Pedagogical Discourse
This work is licensed under a Creative Commons Attribution-NonCommercial-ShareAlike 4.0 International License.