Ecological Education as a Factor of Increase of Ecological Consciousness Level of Students
Леонід Виговський

Khmelnytsky University of Management and Law

Tatiana Vygovs'ka

Khmelnytsky University of Management and Law
Keywords:
ecological education, ecological consciousness, levels of ecological consciousness
Abstract
Ecological education as a factor of ecological consciousness formation of students is considered. Three levels of maturity of ecological consciousness are distinguished for students: naively-realistic, ordinary-empiric and consciously-theoretical. The ways of forming of ecological consciousness of students during teaching and educational process are analized
Downloads
Download data is not yet available.
References
Запольський А. К. Основи екології / А. К. Запольський, А. І. Салюк. – К. : Вища школа, 2001. – 358 с.
Концепція екологічної освіти України. – К. : Mіністерство освіти і науки України, 2001. – 15 с.
Крисаченко В. С. Екологічна культура / Валентин Семенович Крисаченко. – К. : Заповіт, 1996. – 352 с.
Салтовський О. І. Основи соціальної екології : курс лекцій / Олександр Іванович Салтовський. – К. : МАУП. –1997. – 171 с.
www. nbuv. gov. ua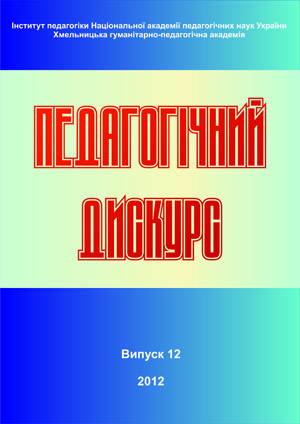 How to Cite
Виговський , Л., & Vygovs'ka, T. (2012). Ecological Education as a Factor of Increase of Ecological Consciousness Level of Students. Pedagogical Discourse, (12), 71-75. Retrieved from https://ojs.kgpa.km.ua/index.php/peddiscourse/article/view/928
Copyright (c) 2012 Педагогічний дискурс
This work is licensed under a Creative Commons Attribution-NonCommercial-ShareAlike 4.0 International License.