Probation as a Form of Professional Self-Perfection of Managers of Higher Educational Establishment
Valentine Gladkova

Ushinskiy's South Ukrainian National Pedagogical University
Keywords:
manager, higher educational establishment, vocational self-perfection, probation, autoprofessional competency training.
Abstract
The article describes the features of professional self-improvement of a manager of higher educational establishment, that takes place in the form of probation. The general program of the mentioned category training of managerial staff of higher educational establishment, which is implemented in a full-time and distance forms. To ensure an effective self-perfection the system of autoprofessional competence is recommended
Downloads
Download data is not yet available.
References
Анисимов О. С. Основы общей и управленческой акмеологии : учеб. пособ. / О. С. Анисимов, А. А. Деркач. – М.-Новгород, 1995. – 272 с.
Квалификационная характеристика менеджера образования (типовая модель, проект) / [Електронний ресурс]. – Режим доступу : http://209.85.135.104/search?q=cache: 0J18k JngtL8J: academy.edu.by/details/ personnels/krupnik/ articles/model14.doc.
Новохатько О. В. Стажировка как форма повышения квалификации педагогов учреждения дополнительного образования детей : дис. … канд. пед. наук : спец. 13.00.08 / Ольга Васильевна Новохатько. – М., 2004. – 183 с.
Олійник В. В. Концепція дистанційного навчання в системі підвищення кваліфікації педагогічних працівників / В. В. Олійник. – К. : ЦІППО, 1999. – 14 с.
Олійник В. В. Дистанційне навчання в післядипломній педагогічній освіті: організаційно-педагогічний аспект : навч. посіб. / В. В. Олійник. – К. : ЦІППО, 2001. – 148 с.
Підвищення кваліфікації керівників освіти за дистанційною формою навчання / за ред. В. В. Олійника. – К. : Логос, 2006. – 408 с.
Пропонуємо нову форму підвищення кваліфікації / Донецький обласний інститут післядипломної педагогічної освіти / [Електронний ресурс]. – Режим доступу : http://ippo.dn.ua/news/show/231.
Пугачев В. П. Тесты, деловые игры, тренинги в управлении персоналом : учеб. для студ. вузов / В. П. Пугачев. – М. : Аспект Пресс, 2002. – 285 с.
Управление персоналом: Словарь-справочник / [Электронный ресурс]. – Режим доступу : http://psyfactor.org/personal.htm.
Фамілярська Л. Л. Модель організації самостійної роботи слухачів на дистанційному етапі підвищення кваліфікації за очно-дистанційною формою навчання / Л. Л. Фамілярська / []Електроний ресурс]. – Режим доступу : http://www.zippo.net.ua/index.php? рage id=604.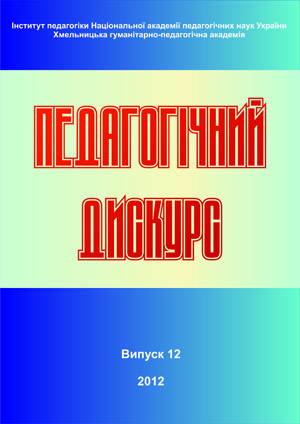 How to Cite
Gladkova, V. (2012). Probation as a Form of Professional Self-Perfection of Managers of Higher Educational Establishment. Pedagogical Discourse, (12), 91-99. Retrieved from https://ojs.kgpa.km.ua/index.php/peddiscourse/article/view/932
Copyright (c) 2012 Педагогічний дискурс
This work is licensed under a Creative Commons Attribution-NonCommercial-ShareAlike 4.0 International License.