The Process of Professional Training of Physical Training Teachers in the Countries of Europe and Ukraine
Igor Hrynchenko

Skovoroda's Kharkiv National Pedagogical University
Keywords:
professional training, innovations, future teacher of physical training, European and Ukrainian higher educational establishments
Abstract
The basis of professional preparation of the future physical training teachers under the new conditions are considered in the article; the analysis of modern principles of professional training of future physical training teachers in European and Ukrainian higher educational establishments is conducted. The main approaches of introduction of pedagogical technologies including innovational ones into the process of professional training are analyzed. The necessity of system introduction of innovations in the countries of Europe and in Ukraine, new aims, content renovation,usage of new forms, means, methods of learning and teaching is underlined in the work. It also deals with the usage of renovated technological, scientific and methodical materials in the educational process of higher educational establishments
Downloads
Download data is not yet available.
References
Гринченко І. Б. Професійна підготовка майбутніх учителів фізичної культури в нових умовах / І. Б. Гринченко // Вища освіта України. Теоретичний та науково-методичний часопис. Додаток 3, Т. VІІ . Тематичний випуск: Вища освіта України у контексті інтеграції до європейського освітнього простору. – К. : Гнозис, 2011. – С. 84–93.
Гринченко І. Б. Впровадження нових педагогічних технологій у процес професійної підготовки майбутніх вчителів фізичної культури. / І. Б. Гринченко // Матеріали ХІ Всеукраїнської науково-практичної заочної конференції "Молода наука України. Перспективи та пріоритети розвитку" (25-27 липня 2012 р.). – Одеса, 2012. – С. 113–115.
Кобяков Ю. П. Проектирование и реализация здоровьеразвивающей технологии физического воспитания студентов вузов : дисс. ... докт. пед. наук : 13.00.08. / Ю. П. Кобяков. – М., 2006. – 350 с.
Курдюков Б. Ф. Теория и методология модернизации процесса профессиональной подготовки специалистов физической культуры в системе высшего образования : дисс. ... докт. пед. наук : 13.00.08. / Б. Ф.Курдюков. – Краснодар, 2004. – 303 с.
Сущенко Л. П. Теоретико-методологічні засади професійної підготовки майбутніх фахівців фізичного виховання та спорту у вищих навчальних закладах : автореф. дис. на здобуття наук. ступеня доктора пед. наук : спец. 13.00.04 "Теорія та методика професійної освіти" / Л. П. Сущенко. – К., 2003. – 46 с.
Тимошенко О. В. Теоретико-методичні засади оптимізації професійної підготовки вчителів фізичної культури у вищих навчальних закладах : автореф. дис. на здобуття наук. ступеня доктора пед. наук : спец. 13.00.04 "Теорія та методика професійної освіти" / О. В. Тимошенко. – Київ, 2009. – 35с.
Шабалина О. Л. Общепедагогическая подготовка учителя физической культуры в системе высшего профессионального образования : дисс. ... докт. пед. наук : 13.00.08 / О. Л. Шабалина. – М., 2003 – 320 c.
Franke E. School physical education as a promoter of sport for all among the population: Paper to World Congress on Sport for all. Tampere, Finland, June 4-7, 1990. – Osnabruck : Univ. of Osnabruck, 1990. – 100 p.
Bouchard, C. Physical activity, fitness and health: The model and key concepts. // C. Bouchard, R.J. Shephard, T. Stephens (eds.) Physical activity, fitness and health: International proceedings and consensus statement. – Champaign, IL : Human Kinetics Publishers. 1994. – 380 р.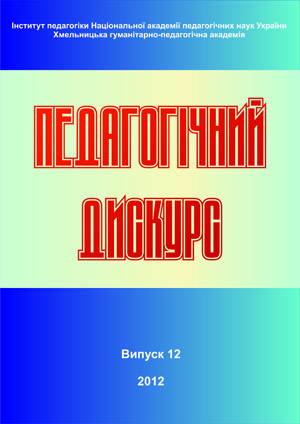 How to Cite
Hrynchenko, I. (2012). The Process of Professional Training of Physical Training Teachers in the Countries of Europe and Ukraine. Pedagogical Discourse, (12), 103-109. Retrieved from https://ojs.kgpa.km.ua/index.php/peddiscourse/article/view/934
Copyright (c) 2012 Педагогічний дискурс
This work is licensed under a Creative Commons Attribution-NonCommercial-ShareAlike 4.0 International License.