Directions of the First Year Students' Adaptation to the Conditions of Study at Higher Educaional Establishment
Oksana Humenyk

Khmelnytsky University of Management and Law
Keywords:
adaptation, stages of adaptation, didactic, professional, social and psychological aspects of adaptation, social and psychological adaptation
Abstract
Information about psychological and pedagogical peculiarities of first-year students' adaptation to the educational process of higher school is studied in the article. The information can be useful for high school teachers
Downloads
Download data is not yet available.
References
Андреева Г. М. Социальная идентичность: временные и средовые компоненты: хрестоматия [для студ. высш. учеб. завед.] / Галина Михайловна Андреева. – СПБ., 2011. – 201 с.
Войтович Н. Відмінності шкільного та студентського колективів як аспект проблеми адаптації першокурсників до умов ВНЗ / Н. Войтович // Психологічна адаптація студентів першого курсу до умов навчання у ВЗО : зб. наук. статей. – Луцьк : держ. ун-т ім. Лесі Українки, 2011. – № 4–5. – С. 57–65.
Делікатний К. Г. Становлення студента: Питання адаптації випускника школи у вузі / Костянтин Григорович Делікатний. – К. : Знання, 2009. – 48 с.
Дьяченко М. И. Психология высшей школы : учеб. пособие для вузов / М. И. Дьяченко, Л. А. Кандыбович. – [2-е изд., перераб. и доп.]. – Мн. : изд-во БГУ, 2001. – 383 с.
Заика Е. В. Психологические вопросы организации самостоятельной работы студентов в вузе / Е. В. Заика // Практична психологія і соціальна робота. – 2009. – № 5. – С. 13–20.
Луценко В. В. Урахування типологічних особливостей студентів у їхній навчально-пізнавальній діяльності / В. В. Луценко // Теорія та методика навчання та виховання : зб. наук. праць. – Харків : ХДПУ, 2000. – № 6. – С. 81–87.
Панькович О. Проблеми адаптації у вищому закладі освіти: методики індивідуально-психологічного консультування / О. Панькович // Психологічна адаптація студентів першого курсу до умов навчання у вищому закладі освіти : зб. наук. статей. – Луцьк : держ. ун-т ім. Лесі Українки, 2011. – С. 70–71.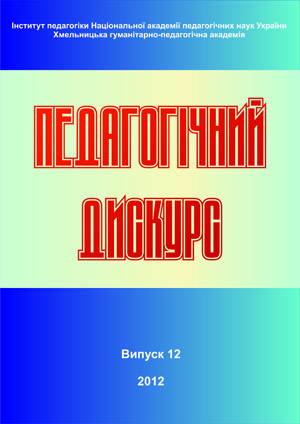 How to Cite
Humenyk, O. (2012). Directions of the First Year Students' Adaptation to the Conditions of Study at Higher Educaional Establishment. Pedagogical Discourse, (12), 109-113. Retrieved from https://ojs.kgpa.km.ua/index.php/peddiscourse/article/view/935
Copyright (c) 2012 Педагогічний дискурс
This work is licensed under a Creative Commons Attribution-NonCommercial-ShareAlike 4.0 International License.