Ethno-Cultural Values in Civil Education of Pupils in Poland
Iryna Kierzkowska

Gdansk Higher Humanities School
Abstract
The problem of ethnic and cultural values ​​in the process of civic education of young people is extremely urgent. The main factor determining its relevance is the trend towards globalization of the modern world, one of the processes of which is human interstate migration. Every society, every human being has its place in time and space, in which it transforms the external and its own inner world. As a result of human migration processes, not only the social and cultural location of the person changes, but also the inner world of man, his identity. The intensification of social relations in recent years has spread to a global scale, through which, according to Anthony Giddens, regional phenomena, which are actually in a real geographical distance, are linked and have their counterparts in every part of the globe, and the process of globalization is becoming more national. . This trend is closely linked to the formation of a new phenomenon in public relations, namely transnationality, which is transcultural, though more limited than globalization, in nature. And as much as global processes are not dependent on specific national territories, so transnationality is always contained in the national context and is not overcome.
Downloads
Download data is not yet available.
References
Babiński G. Etniczność // PROGLAS. - nr 5-6. - 199), s.28-31
Cele kształcenia ogólnego (III i IV etap edukacyjny) // Rozporządzenie Ministra Edukacji Narodowej z dnia 23 grudnia 2008 r. w sprawie podstawy programowej wychowania przedszkolnego oraz kształcenia ogólnego w poszczególnych typach szkół. / Załącznik 4 w: Dziennik Ustaw z dn. 15 stycznia 2009 , Nr 4, poz. 17, s. 270-275
Chmielewska K. Wychowanie obywatelskie. Wiedza o społeczeństwie. Ćwiczenia i podręcznik dla gimnazjalistów - [Електронний ресурс] // Режим доступу: http://otwarta.org/old/wychowanie-obywatelskie.-wiedza-o-spoleczenstwie.-cwiczenia-i-podrecznik-dla-gimnazjalistow,351.html
Diaspora. Polska tożsamość na emigracji. T. II. - [Електронний ресурс] // Режим доступу: http://www.us.szc.pl/main.php/polonia?xml=load_page&st=16158
Jest nas 38,5 miliona. Wyniki spisu powszechnego - [Електронний ресурс] // Режим доступу: http://spoleczenstwo.newsweek.pl/jest-nas-38-5-miliona--wyniki-spisu-powszechnego,89818,1,1.html 22 marca 2012
Podstawa programowa edukacji wczesnoszkolnej w zakresie edukacji społecznej. I etap edukacyjny: klasy I–III // Podstawa programowa z komentarzami. Tom 4. - Edukacja historyczna i obywatelska w szkole podstawowej, gimnazjum i liceum. - [Електронний ресурс] // Режим доступу:http://www.men.gov.pl/images/stories/pdf/Reforma/4b.pdf
Sadowski A. Pogranicze. Studia społeczne. Zarys problematyki/ Andrzej Sadowski - [Електронний ресурс] // Режим доступу: http://pogranicze.soc.uwb.edu.pl/component/content/article/2-informacje/6-pogranicze-studia-spoeczne-zarys-problematyki.html
Skomra S. Boją się przyznać do narodowości. Jak spisać mniejszość? - [Електронний ресурс] // Режим доступу: http://lublin.gazeta.pl/lublin/1,48724,9364150,Boja_sie_przyznac_do_narodowosci__Jak_spisac_mniejszosc_.html
Wyniki Narodowego Spisu Powszechnego Ludności i Mieszkań 2002 w zakresie deklarowanej narodowości oraz języka używanego w domu [Електронний ресурс] // Режим доступу:http://www.stat.gov.pl/gus/8185_PLK_HTML.htm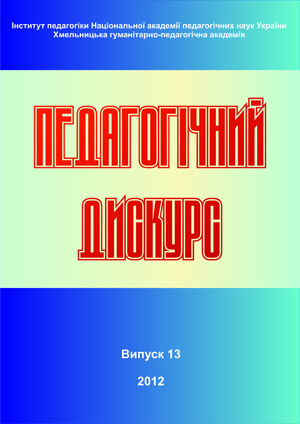 How to Cite
Kierzkowska, I. (2012). Ethno-Cultural Values in Civil Education of Pupils in Poland. Pedagogical Discourse, (13), 134-137. Retrieved from https://ojs.kgpa.km.ua/index.php/peddiscourse/article/view/995
Copyright (c) 2012 Pedagogical Discourse
This work is licensed under a Creative Commons Attribution-NonCommercial-ShareAlike 4.0 International License.