Forming of Valuable Orientations in the Process of a Professional Growth of Teachers-Musicians
Mariya Kliepar

Vasyl Stefanyk Precarpathian National University
Keywords:
valuable orientations, teacher-musician, professional growth
Abstract
The questions of forming of valuable orientations in the process of a professional growth of a teacher-musician are analyzed in the article.
Downloads
Download data is not yet available.
References
Алексюк А. М. Педагогіка вищої освіти України. Історія. Теорія : підруч. / А. М. Алексюк. – К. : Либідь, 1998. – 560 с.
Бех І. Д. Особистісно зорієнтоване виховання : наук.-метод. посіб. / І. Д. Бех. – К. : ІЗМН, 1998.
Грибов Ю. А. Психолого-педагогические условия развития творческого самовыражения учащихся и учителей / Ю. А. Грибов // Вопросы психологии. – 1999. – № 2.
Падалка Г. М. Музична педагогіка: Курс лекцій з актуальних проблем викладання музичних дисциплін в системі педагогічної освіти / Г. М. Падалка. – Херсон : ХДПІ, 2003.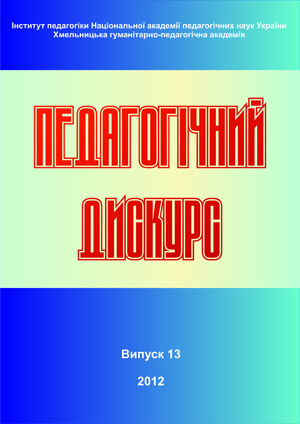 How to Cite
Kliepar, M. (2012). Forming of Valuable Orientations in the Process of a Professional Growth of Teachers-Musicians. Pedagogical Discourse, (13), 145-148. Retrieved from https://ojs.kgpa.km.ua/index.php/peddiscourse/article/view/998
Copyright (c) 2012 Pedagogical Discourse
This work is licensed under a Creative Commons Attribution-NonCommercial-ShareAlike 4.0 International License.