Formation of Professionally Significant Personal Qualities of Future Specialists in the Sphere of Services and Tourism by Means of Self-Management
Iryna Zinkova

Educational and Scientific Center «Pedagogy and Psychology of Higher School» of Institute of Higher Education of National Academy of Pedagogical Sciences of Ukraine, Vasyl Stefanyk Precarpathian National University

https://orcid.org/0000-0001-8387-2143
Keywords:
professionally significant qualities, services and tourism, self-management
Abstract
In the article the scientific substantiation of peculiarities of formation of professionally significant qualities of the future specialists in the sphere of services and tourism has been covered. On the basis of theoretical and methodological studies the results of scientific researchers, the understanding of the key categories, such as «professionally important qualities» and so on have been analyzed. Such qualities include communicativeness, innovation, creativity, client orientation, initiative, risk-taking, organizational skills.
The formation of professionally significant qualities has been accomplished in the educational process during the forming experiment on the problem of forming the entrepreneurial culture of students studying in the specialties 242 – «Tourism» and 241 – «Hotel and Restaurant Business». The tasks have been solved by introducing a special course «Entrepreneurial Culture of Specialist Services and Tourism: Theory and Practice», using self-management tools and supplementing the content of the program of different types of practices.
The article highlights the peculiarities of familiarizing students with the conditions and factors of improving self-management in accordance with the established functions of self-management, such as: correct definition of personal goals, planning activities, technology organization activities, self-control and formulation of conclusions, effective use of time, ability to manage stress, etc. Forms, methods and techniques of students' self-management skills during higher education have been presented, namely: group work, brainstorming, project technology, introspection. In this way, students were introduced to the theoretical basics and learned practical self-management skills.
Downloads
Download data is not yet available.
References
Havryliuk, A. M., & Pletsan, Kh .V. (2016). Taim-menedzhment yak skladova uspishnoi komunikatyvnoi vzaiemodii v industrii turyzmu Ukrainy [Time-Management as Part of Successful Communicative Interaction the Tourism Industry in Ukraine]. Efektyvna ekonomika – Effective Economic, 1. Retrieved from http://nbuv.gov.ua/UJRN/efek_2016_1_9 [in Ukrainian].
Zinchenko, V. A. (2017). Osoblyvosti pidhotovky kadriv turyzmu i hotelnoi spravy v umovakh yevrointehratsii Ukrainy ta pidvyshchennia konkurentnosti turystychnoi haluzi [Features of Training Employeees of Tourism and Hotel Business in Ukraine under the Conditions of Eurointegration and Increasing Competitiveness of the Tourism Sector]. Retrieved from http://chtei-knteu.cv.ua/herald/content/download/archive/2017/v3/NV-2017-v3_24.pdf [in Ukrainian].
Krykun, O. A. (2014). Samomenedzhment [Self-Management]. Kharkov: KhNU imeni V. N. Karazina [in Russian].
Lobur, M. S. (2006). Formuvannia profesiino znachushchykh yakostei maibutnikh molodshykh fakhivtsiv sfery kharchuvannia [The Formation of Professional Qualities of Future Junior Specialists of the Nutrition]. (Candidate's thesis). Kyiv [in Ukrainian].
Matishak, M. (2016). Formuvannia navychok samomenedzhmentu maibutnikh vykhovateliv DNZ [Formation of Skills of Self-Management of Future Kindergarten Educators]. Osvitnii prostir Ukrainy – The Educational Space of Ukraine, 14, 88–92 [in Ukrainian].
Natsionalnia stratehiia rozvytku osvity v Ukraini na period do 2021 r. [National Strategy for the Development of Education in Ukraine until 2021]. (2013). Retrieved from https://zakon3.rada.gov.ua/laws/show/344/2013 [in Ukrainian].
Orlykovskyi, M. O., Osovska, H. V., & Tkachuk, V. I. (2012). Samomenedzhment. Praktykum: terminy, testy, praktychni zavdannia ta sytuatsii. [Self-Management. Workshop: Terms, Tests, Practical Tasks and Situations]. Kyiv: Kondor [in Ukrainian].
Perminova, L. A. (2017). Zasoby formuvannia navychok samomenedzhmentu maibutnoho pedahoha [Self-Management Methods of Skills Forming of the Future Pedagogue]. Retrieved from http://ps.stateuniversity.ks.ua/file/issue_65/83.pdf [in Ukrainian].
Pryimuk, O. O. (2017). Psykholohichni umovy formuvannia profesiinykh yakostei zdobuvachiv vyshchoi osvity [Psychological Conditions for the Formation of Professional Qualities of Higher Education Graduates]. (Candidate's thesis). Kyiv [in Ukrainian].
Tsymbal, O. Yu. (2016). Samomenedzhment v strukturi profesiinoi pidhotovky maibutnoho kerivnyka navchalnoho zakladu [Self-Management in the Structure of Professional Training of the Future Manager of Educational Institution]. Retrieved from http://molodyvcheny.in.ua/files/journal/2016/6/119.pdf [in Ukrainian].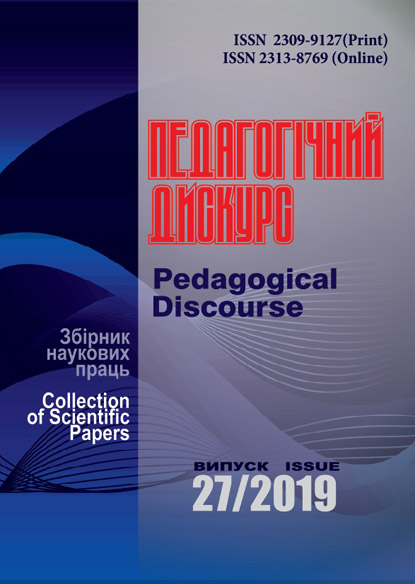 How to Cite
Zinkova, I. (2019). Formation of Professionally Significant Personal Qualities of Future Specialists in the Sphere of Services and Tourism by Means of Self-Management. Pedagogical Discourse, (27), 43-49. https://doi.org/10.31475/ped.dys.2019.27.05
Copyright (c) 2019 Pedagogical Discourse
This work is licensed under a Creative Commons Attribution-NonCommercial-ShareAlike 4.0 International License.