Research Project as a Means of Preparation of the Future Primary School Teachers to Conducting Pedagogical Research
Oksana Shkvyr

Khmelnytskyi Humanitarian-Pedagogical Academy
Keywords:
method of projects, project technology, research project
Abstract
The problem of preparation of the future primary school teachers to conducting pedagogical researches has been actualized in the article. Development by the students research projects has been determined as an important means of the mentioned preparation. The content of the notion «Research Project» and peculiarities of the project research activity have been revealed in the article. The author's structure of development of research projects in the process of study of educational disciplines has been offered. By the example of study of the course «Topical Problems of Primary Education» technology of performing of research projects has been studied.
Downloads
Download data is not yet available.
References
Гончаренко С. Український педагогічний словник / Семен Гончаренко. – Л. : Либідь, 1997. – 376 с.

Педагогические технологии : учеб. пособие для студентов педагогических специальностей ; под общ. ред. В. С. Кукушина. – М. : ИКЦ «МарТ», 2006. – 336 с.

Освітні технології : навч.-метод. посіб. / [О. М. Пєхота, А. З. Кіктенко, О. М. Любарська та ін.] ; за ред. О. М. Пєхоти. – К. : вид-во А.С.К., 2003. – 255 с.

Шквир О. Л. Актуальні проблеми початкової освіти : навч. посіб. / О. Л. Шквир. – Хмельницький : ХГПА, 2012. – 166 с.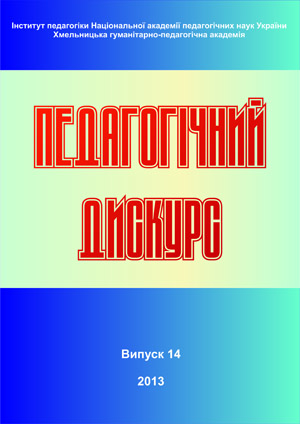 How to Cite
Shkvyr, O. (2013). Research Project as a Means of Preparation of the Future Primary School Teachers to Conducting Pedagogical Research. Pedagogical Discourse, (14), 461-465. Retrieved from https://ojs.kgpa.km.ua/index.php/peddiscourse/article/view/523
This work is licensed under a Creative Commons Attribution-NonCommercial-ShareAlike 4.0 International License.