Modern Challenges in Primary Education
Inna Shorobura

Khmelnytskyi Humanitarian-Pedagogical Academy
Abstract
The main directions of realization of the content of the State standard of primary general education in Khmelnytskyi Humanitarian-Pedagogical Academy have been cleared out in the article. The information regarding the purpose of the State standard, the forms and technologies of its realization have been offered. In particular, the attention has been paid to cooperation with the district departments of education on this issue, the work of the department of pedagogy and psychology as for the realization of the State standards in the process of educational lessons and extracurricular activities. The activity of the department of pedagogy of Khmelnytskyi Humanitarian-Pedagogical Academy is aimed at training primary school teachers of general educational schools in the city of Khmelnytskyi to the introduction of the State standard by means of round-table discussions, scientific-practical conferences, workshops. The teachers of the department target the students for the effective realization of the State standard in the process of study pedagogy, pedagogical psychology, technologies of educational process, technologies of the upbringing process. The role of various types of pedagogical practice in the professional formation of the future teacher according to the content of the State standard has been shown. The attention is focused on the undertaking pre-degree practice in various types of general educational institutions in Khmelnytskyi region. Conducting by the students during their practical training the courses «Steps to Informatics» and «Foreign Language» for the forming competences in the sphere of information-communication technologies has been mentioned.
Key words: State standard of primary general education, Khmelnytskyi Humanitarian-Pedagogical Academy, educational activity, pedagogical practice, outside of classroom activities.
Downloads
Download data is not yet available.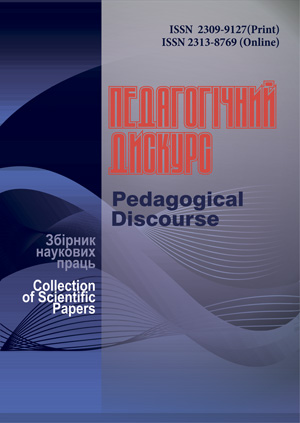 How to Cite
Shorobura, I. (2016). Modern Challenges in Primary Education. Pedagogical Discourse, (20), 202-206. Retrieved from https://ojs.kgpa.km.ua/index.php/peddiscourse/article/view/85