Scientific-Pedagogical Activity of Volodymyr Otrokovskyi: Historic-Literary Aspect
Vitalii Matsko

Khmelnytskyi Humanitarian-Pedagogical Academy
Keywords:
pedagogics, Kyiv University, ancient Ukrainian literature, philological seminar, Volodymyr Otrokovskyi, college of Pavlo Galagan, professorial scholarship holder
Abstract
In the article special attention is paid to the worldview function of the researcher of ancient Ukrainian literature, poet, teacher-philologist V.M. Otrokovskyi, who came out of the scientific philological seminar of the academician V.M. Peretts. The fate gave to Otrokovskyi only 25 years of life, but even during this short period of his persistent intellectual work he was able to leave noticeable mark on the Earth, to bring in strong contribution into the development of the domestic culture and education. Seriously he took great interest in science in 1911. During seven years he wrote ponderable researches «Narrative about the Merchant Basarg and its Literary Sources» (manuscript), «Motives of the Riddles of Wise Questions in Tales» (manuscript), «Tarasii Zemka – South Russian Literary Figure of the XVII Century» (1915), which consists of 3000 pages of printed text, "Motives of Heretics' Persecution in Polemics of Zavoriye Aged Men and Josephites», «Commentaries to the Article of Aleksei Putintsev» (1880-1937), «The Most Ancient Russian Domostroy» (Voronezh, 1916), «Review to the Book of Fedor Riazanovsky», «Demonology in Ancient Russian Literature» (M., 1915), «Horatio and Trediakovsky» (unfinished) and others. All researches of Otrokovskyi were of great success in scientific circles, in its time they were warmly characterized by reputable Russian philologists, academicians A.Sobolevsky, V.Peretts, A.Shakhmatov, N.Nikolsky, V.Maikov.   
Downloads
Download data is not yet available.
References
Blok A. A. Sobranie sochinenij v vos'mi tomax. Moskva : Leningrad, 1963, Issue VIII, 772 p.

Gudzij N. Pamyati uchitelya, Russkaya literatura. 1965, Volume 4, pp. 167–169.

Instytut rukopysiv Natsionalnoi biblioteky imeni V. I. Vernadskoho NAN Ukrainy. F. 78, Spr. 1627, ark. 3.

Kiev. Russkaya poe'ziya. XX vek : poe'tich. atologiya / [sost., vstup. st. Yu. Kaplana]. Kiev, Yug, 2004, 490 p.

Kobets O. Nezabutni dni i liudy [Elektronnyi resurs]. – Rezhym dostupu : http://donklass.com/arhiv/histdisk/memorial/education/write/fylypov/7.htm.

Kostenko N. Vriatuie vrodu i sebe liudyna [peredmova] // in Pavlo Fylypovych. Poezii. Kyiv, Radianskyi pysmennyk, 1989, pp. 5–44 ; Fylypovych P. V. M. Otrokovskyi (Z nahody 10-kh rokovyn smerti), Literatura. Zbirnyk 1. Kyiv, 1928, pp. 223–225 ; Virshi «Sontsesiainist dushi» (pp. 462–608) // in Rukopys: ukrainskyi almanakh spohadiv, shchodennykiv, lystiv, dokumentiv, svitlyn : u 2 t. T. 1 / [pid zah. red. I. M. Dziuby ; Komitet z nats. premii Ukrainy im. T. Shevchenka]. Kyiv, Krynytsia, 2004, 608 p.

Larin B. Vladimir Otrokovskij (portret), Kuranty', 1918, Volume 2, p. 12.

Matsko V. Homin vikiv: ukrainska literatura davnoi doby v naukovykh doslidzhenniakh Ivana Ohiienka. Khmelnytskyi, 2000, 132 p.

Nazarevskij A. A. Iz istorii Seminariya russkoj filologii prof. V. N. Peretcza (V. M. Otrokovskij. K 80-letiyu so dnya rozhdeniya), Pysemnist Kyivskoi Rusi i stanovlennia ukrainskoi literatury : zb. nauk. prats. Kyiv, Naukova dumka, 1988, pp. 272–294.

Ohiienko I. Istoriia ukrainskoho drukarstva [Elektronnyi resurs]. – Rezhym dostupu : http://litopys.org.ua/ohdruk/ohd12. htm.

Otrokovskyi Volodymyr, Kooperatyvna zoria, 1918. Volume 3–4, p. 31.

Otrokovskij V. Tarasij Zemka, yuzhnorusskij literaturny'j deyatel' 17 v., Sbornik otdeleniya russkogho yazy'ka i slovesnosti, 1921, Volume 96, part 2.

Peretcz V. N. Otzy'v o sochinenii na temu «Povest' o kupce Basarge», Universitetskiye izvestiya, Kyiv, 1914, Volume 9, pp. 33–36.

Petrov V. Universytetski roky II [Elektronnyi resurs]. – Rezhym dostupu : https://www.facebook.com/notes/%D0%B2%D0%BE%D0%BB%D0%BE%D0%B4%D0%B8%D0%BC%D0%B8%D1%80-D1%88%D0%B5%D0%BB%D1%83%.

Protsenko L., Kostenko Yu Lukianivske tsyvilne kladovyshche : putivnyk. Kyiv, Interhrafik, 2001, 192 p. ; Protsenko L. A. Kyivskyi nekropol : Putivnyk-dovidnyk. Kyiv, Ukr. pysmennyk, 1994, 334 p.

Shudria M. Poet mriian i znemohy, Rukopys: Ukrainskyi almanakh spohadiv, shchodennykiv, lystiv, dokumentiv, svitlyn. Kyiv, Krynytsia, 2004, Issue 1, pp. 460–461.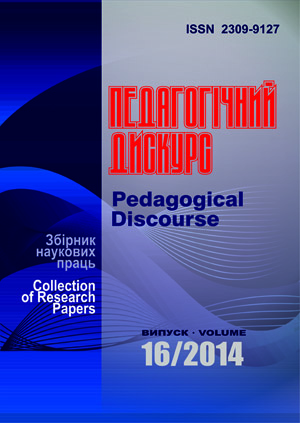 How to Cite
Matsko, V. (2014). Scientific-Pedagogical Activity of Volodymyr Otrokovskyi: Historic-Literary Aspect. Pedagogical Discourse, (16), 112-118. Retrieved from https://ojs.kgpa.km.ua/index.php/peddiscourse/article/view/376
This work is licensed under a Creative Commons Attribution-NonCommercial-ShareAlike 4.0 International License.