The Continuity of Personality's Sensory Development: Pre-School, School Education
Iryna Barbashova

Berdyansk State Pedagogical University
Keywords:
sensory development, preschool children, younger pupils, pupils of middle and older age, standard of education, curriculum
Abstract
The general trends in the provision of perceptual development of children and pupils: cross-cutting nature of the implementation of the tasks of sensory development from pre-school educational institutions to high school are established; the presence of distinct ways to improve the visual, audial and tactile perception; the gradual expansion of the objects and phenomena' external properties that are of survey; the use of targeted and indirect approaches to the formation of sensual sphere of personality.
Downloads
Download data is not yet available.
References
Базовий компонент дошкільної освіти / [Богуш А. М., Бєлєнька Г. В., Богініч О. Л. та ін.]; наук. кер. А. М. Богуш. – К. : Видавництво, 2012. – 26 с.

Базова програма розвитку дитини дошкільного віку «Я у світі» / [наук. кер. та заг. ред. О. Л. Кононко]. – [3-ге вид., випр]. – К. : Світич, 2009. – 430 с.

Навчальні програми для загальноосвітніх навчальних закладів із навчанням українською мовою. 1–4 класи. – К. : Освіта, 2012. – 392 с.

Програма розвитку дітей старшого дошкільного віку «Впевнений старт» [Електронний ресурс]. – Режим доступу : http://www.mon.gov.ua/newstmp/2010/24_11/5/programa.doc.

Про затвердження Державного стандарту базової і повної загальної середньої освіти. Постанова Кабінету Міністрів України № 1392 від 22.11.2011 [Електронний ресурс]. – Режим доступу : http://zakon2.rada.gov.ua/laws/show/1392-2011-%D0%BF.

Про затвердження Державного стандарту початкової загальної освіти. Постанова Кабінету Міністрів України № 462 від 20.04.2011 [Електронний ресурс]. – Режим доступу : http://osvita.ua/legislation/Ser_osv/17911.

Савченко О. Я. Дидактика початкової освіти : підруч. [для студ. пед. фак. вищ. навч. закл.] / Олександра Яківна Савченко. – К. : Грамота, 2012. – С. 231–234.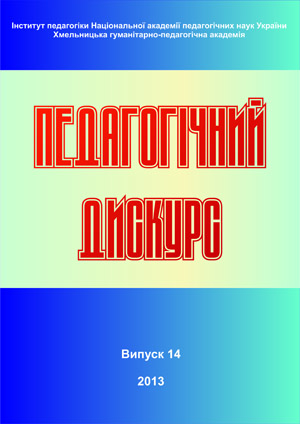 How to Cite
Barbashova, I. (2013). The Continuity of Personality's Sensory Development: Pre-School, School Education. Pedagogical Discourse, (14), 42-48. Retrieved from https://ojs.kgpa.km.ua/index.php/peddiscourse/article/view/409
This work is licensed under a Creative Commons Attribution-NonCommercial-ShareAlike 4.0 International License.